It all started when my dad suddenly died, leaving us in a whirlpool of receipts and bills, along with shock and grief. It took my mum and I, two well-educated women, almost 2 years to get out of this tornado and start to understand everything.
Studies show that women feel just as comfortable with money as men when it comes to everyday matters: budgeting in the household and paying bills. But only about half (52%) dare to invest. And even more - 59% - say they regret not dealing with money anymore.
I only understood the full scope of "being a woman & money" when I was 38. After all, I was primarily an economist, marketing specialist, girlfriend, mother, and not necessarily a "woman". And money never really seemed that "important", what was happening in my everyday life was much more important.
Be honest, who actually gets up in the morning and thinks:
"Today is the day I'm going to take care of my money!"
I can think of millions of other things than struggling with a mess of numbers or going to a boring meeting room for financial advice.
When I speak to women from all over the world, I hear sentences like
"I don't know where to start."
"He's better with the finances."
"I have no time."
"I'm afraid of losing the money."
"I don't know enough about investing ..."
No isolated cases and age do not matter: 61% of young women leave financial decisions to their partners (UBS, 2019) and more than half of the divorced or widowed women experienced a financial shock.
7 out of 10 women living in a partnership in Switzerland leave the financial planning to their male partner.
But:
If women make 80% of the buying decisions, why do we find it so hard to plan our own future with money?
Is it perhaps because, for us, instead of just growing numbers in our accounts, what matters to us is where the money goes and what happens in life?
I think that's where the woman-money problem starts. I often find that money is the last thing women think about when they want to move something forward. Or everyday life takes over and they lack time.
Every woman should look into her future money - especially in Switzerland.
Responsibility for a longer life
In Switzerland, women live on average almost 4 years longer (85, 4 years vs. 81.7 years men), the divorce rate increases and other partner models emerge. Of course, as a woman you can inherit twice, once from your parents and a second time from your partner, but that alone is often not enough as a pension.
Overall this provides a typical picture over the course of a lifetime: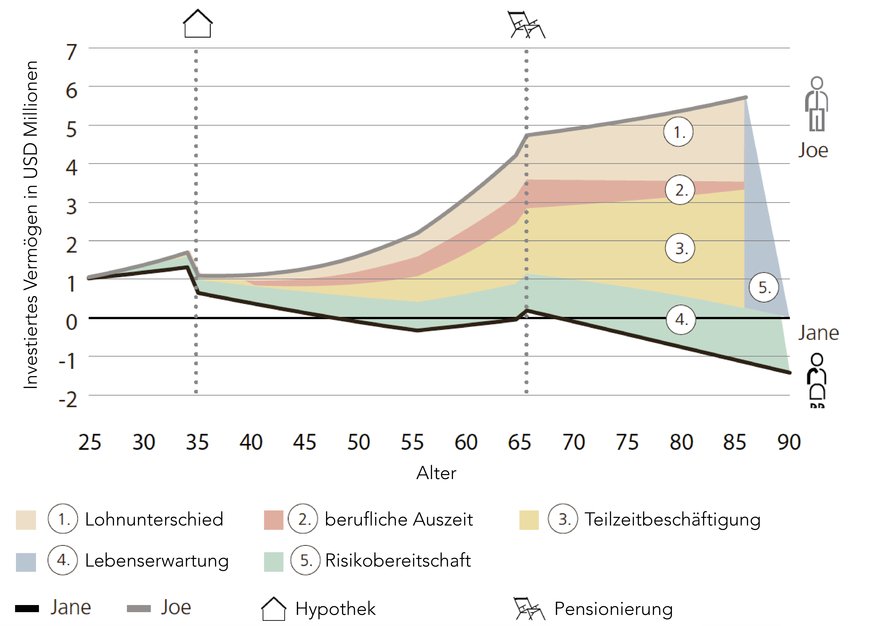 Money alone does not make you happy, but it gives us security, independence and the opportunity to change the world.
What do women need?
Long-term (joint) financial planning; the courage to invest; transparent, meaningful financial products and a bit of practical know-how on how to do it all.
Published on:
Updated on:
Next Lessons
7 tips on investing with robo-advisors

What if investing were as easy as online shopping? Let's explore how to invest with robo-advisors.

How do you know when to save and when to invest?

8 tips for saving and investing: How much money do you need to get started? When should you start?

Five women explain how your money can make the world a better place

Would you like to try your hand at sustainable investment? Our co-founder Olga asked five female financial professionals some key ...